Gerbil First Aid Kit
The problem facing anyone wanting to put together a basic first aid kit is that it is impossible to predict exactly what medicines or other equipment that will be needed. After all you can't forsee what illnesses or accidents that are going to occur. Invariably you will find that animals, quite inconsiderately, have an uncanny knack of falling ill or injuring themselves on a Sunday or else late at night, when it is difficult to enlist the services of a Vet. This is when a first aid kit can prove invaluable. However it must be emphasised that a first aid kit, no matter how well stocked, is not a substitute for for veterinary assistance, but should but be viewed as a stopgap measure to allow treatment to begin immediately in order to 'buy' the animal some time until it can be examined by a Vet
A good animal keeper will research the common ailments of the species he/she keeps, and will keep a stock of the appropiate treatments, this is where a good relationship with your vet is invaluable, many treatments are POM (Prescription only Medicine) e.g. Ivermectin, for the treatment of mites, antibiotics or worming preparations etc, and therefore can only be obtained from a Vet who may be reluctant for you to hold supplies of these medicines just on the 'off chance' one of your animals falls ill. If a Vet knows you can be trusted to to make the right judgement and administer the drug correctly he is more likely to prescribe for you to hold a small stock in case of emergencies.
The items should be stored in a rodent-proof, insect-proof, wooden or metal cabinet or similar, it should be clearly marked, and kept in a cool, dry location. If there are children in the household (or there will probably be times when you will be visited by grandchildren, nieces or nephews), it is very important to keep the cabinet or box locked or out of reach at all times. The telephone number of your vet should be posted on the door or lid to save time looking for it in an emergency. Medicines should be kept in their original bottles, clearly labelled with the name of the drug, dosage rate and the expiry date, and the species it can safely be used on.
The contents of a first aid kit should be checked regularly and anything that is out of date or contaminated in any way should be discarded of immediately and safely, the safest way is to return them to the veterinary surgery for disposal.
Essential First Aid Items

Hospital Tank
The most effective short term treatment for almost every ailment is warmth, so a hospital tank set up to receive a sick animal at short notice is very important, warmth can be provided by either a heat mat or a heat lamp. Separating a sick or injured animal from its tank mates is important also to prevent further injury, in the case of fighting, or to help prevent the spread of disease.
Always make sure that you wash your hands both before and after treating any sick or injured animal, for best practice also use a hand disinfectant such as Hibiscrub which is available from your Vets.
Disinfectant
A bottle of Surgical Spirit to disinfect wounds/cuts etc. Alternatively ask your vet for a bottle of Hibiscrub, this is what a vet would use, Hibiscrub can also be used as a hand disinfectant. For a homemade disinfectant use 1 teaspoon of salt in 1 pint of cooled boiled water.
Cotton Wool Buds
These are useful for cleaning small wounds and infections and for applying topical medicines.
Cocktail Sticks
These are useful to puncture an abscess and permit the contents (pus, blood or fluid) to seep out. Surgical spirit is required to disinfect the area beforehand. An abscess must be kept open as it heals to allow the contents to continue to drain. For this reason, scar tissue (normally a good thing) must not be allowed to form and seal the opening.
Nursing Scissors

Good general purpose scissors can be used for clipping nails, and fur from around a wound or abscess. These are available from your Pharmacist.
Tweezers
It is worth buying good quality ones as they work much better. Used for removing foreign objects.
Small Towel
These can be used for wrapping a gerbil or jird if it is struggling during treatment.
Rehydration Salts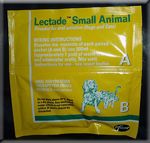 These are available from your vets and are used for replacing lost fluids in sick or stressed animals. Follow the instructions on the packet for correct dosage. Pharmacists also sell a product called Dioralyte for babies which can be used.
Milk Replacement

KMR Kitten Milk Replacer and similar products are ideal for weaning off orphaned pups and to supplement the diet of sick animals. For more information on suitable milk replacers see here
Wound Powder

Useful for small cuts and nail injuries as it helps to stop minor bleeding, available from your vets and petshops
Small Syringes
For flushing out wounds and abscess cavities. Also for administering liquid medicines, rehydration fluids and hand feeding milk replacements
Probiotic Supplements
Very useful after a course of antibiotics to help re-populate the gut with beneficial bacteria.
Of course all these items can be used to treat other animals in an emergency, but to reiterate they are not an alternative to seeking veterinary treatment and advice, only a stopgap for emergency treatments.
Article by Eddie Cope