Home made gerbil tanks by Derek Trelore
With the number of gerbils I keep,(approx 150) I'm always on the lookout for cheap cages/tanks. While visiting my local Morrisons store, I found clear plastic storage boxes with lockable lids at the fantastic price of £2.99 each or two for £5.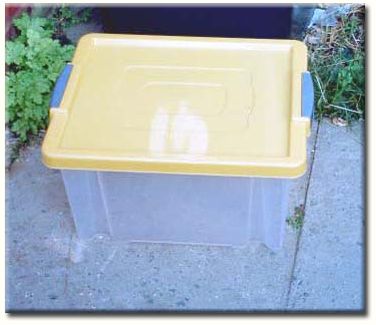 Here's a brief description on how I made storage boxes into gerbil tanks:-
Firstly I got some wood battens from B&Q (20mm x15mm), they come in bundles of 10.
Make a frame to fit into the recess of the lid, mark the inside of the frame to the top of the lid with a black marker. At each corner of the marked area, drill a hole, just large enough to fit a jigsaw blade.
Cut out the center of the lid. Next, cut some 1cm x1cm wire netting to fit the frame, place the wired frame, wire side down, to the lid.
Drill four holes though both the frame and plastic lid, and secure them together using a nut and bolt, (Self tapping screws could be used), And there you go, a gerbil cage for less than £3!.
I find these tanks are ideal to keep gerbils in,draught proof,easy to clean and lightweight. My shed, 8ft x6ft, with shelves I've built on both sides, can fit 50 of these tanks in.