Warren The Yahoo Gerbil
Warren's story first started in early February 2001, when Andy Lockley and James Gillham from HHCL (an advertising agency) dreamt up a rather unusual advertising gimmick to sell the Channel 5 movie of the evening which was being sponsored by Yahoo.
From humble beginnings in a litter of four, himself, two brothers and a sister, Warren was plucked from mediocrity and placed 'Big Brother' style into a nation's gaze. Although he was originally christened 'Brian' from Monty Pythons 'Life of Brian', Yahoo decided to put his name to an international vote and after many hundreds of thousands of votes the public decided to name him Warren.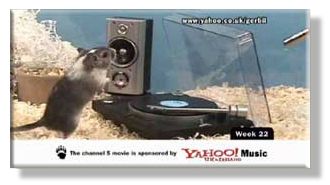 Little did we know then, that the furry star's meteoric rise to super stardom would also include many 'firsts' for gerbil-kind, these included first on screen kiss and courtship (Rosie's steamy sex scenes were cut later due to their graphic nature and never made it to TV), the first gerbil DJ and the first gerbil to use a calculator. He was also reported to be telepathic, and his image has mysteriously appeared on a ready salted crisp, also a human lookalike was spotted among the idents. Although a self confessed fitness freak, his computerised wheelometer showed he had travelled 171KM, his hell raising rock 'n' roll lifestyle sometimes got the better of him and he trashed his plastic house several times and sadly reports that Rosie, his on screen love, had received no maintenance payments for his litter of two beautiful Golden Agouti pied pups were later reported as true.
Warrens last on screen appearance came on Christmas Eve and marked the end of Warren's show-biz career, and sadly he was reluctantly retired. He had become the cornerstone of Channel 5's schedule and attracted audiences of upto 5.4 million viewers. He served Yahoo well, a recent brand track showed that 54% of Channel 5 viewers were familiar with Warren's antics and 17% of viewers spontaneously recalled Yahoo as the sponsor. Over the year Warren was used to promote a variety of Yahoo products including: Greetings Cards, Invites, Photos, Finance, Sports, Travel, Music, Mail, Horoscopes and of course TV!
Earlier in the year false rumours of Warren's death prompted thousands of concerned emails flooding into Yahoo headquarters, however these rumours were soon quashed when Warren reappeared with Rosie, a beautiful honey pied gerbil. So after a very successful TV career, 900 idents totalling 2 hours of film over 12 months, Warren and his brother, also his tank mate, decided to call it a day and now shun the limelight in favour of some new wooden toys and empty toilet rolls in their new home in Bath, where his new owner, 15 year old Niki Pritchard, a pupil at Oldfield School, has pledged the quiet life for Warren.
Article In The Daily Express

Script from Warrens first day of stardom
Rosie's Story
It was early Autumn 2001 when Andy Lockley phoned,
"It's time Warren had a girlfriend,"
"Oh I agree, he's a charmer" It was that simple.
So it was arranged for the furry Superstar to secretly travel back up to Manchester for filming (it was about this time that rumours had started on the internet about the demise of Warren) and to hopefully arrange a girlfriend for the now famous Warren.
Later the following week Warren and Andy arrived early evening and Warren was left in an overnight 'Hotel Tank' with all his usual accessories, wheel, TV, special diet ~ well he is a superstar!
I already had in mind a female gerbil that would be ideal for Warren. A beautiful 8 week old Honey Pied. Later that evening I decided to give Warren a sneak preview of his new girl. So with a dimming of the lights, some soft music, extra pumpkin seeds, all the necessary accoutrements to woo this young maiden, Rosie was tentatively introduced to Warren's enclosure. Warren wasted no time placing her under the spell of his superstar charm and she soon became putty in his furry little paws, so to speak
Filming the next day was no different, both Warren and Rosie entertained us all tremendously. Love was definitely in the air and on several occasions Warren insisted on displaying his sexual prowess in front of the camera! which proved a bit 'risque' for early evening channel 5 viewers so those scenes were eventually dropped.
All too soon the filming was over for Rosie, her fame assured, but her affair with Warren was a fleeting one and she returned to her community tank a much wiser gerbil.
The following week Rosie was paired with one of Warren's brothers, and a couple of weeks after that Rosie gave birth to two lovely Golden Agouti pied pups, one male and one female, the result of her brief affair with Warren. Warren's brother accepted and raised the pups as his own alongside Rosie, who incidentally has never let fame affect her and is a devoted and loving gerbil to her pups. She has raised over 10 litters since her first and is a wise and wonderful gerbil.
Article by Eddie Cope